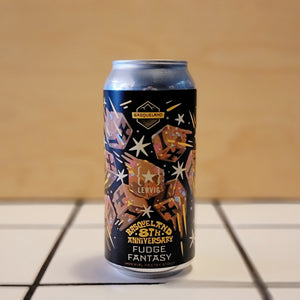 Basqueland x Lervig, Fudge Fantasy, Imperial Stout, 12%
Brewery: Basqueland x Lervig
Style: Imperial Stout
Strength: 12%

Get ready for an extraordinary sensory journey with Fudge Fantasy, their 8th-anniversary collaboration with the beer wizards at Lervig Brewery. This beer is a delicious evolution of our previous hit, 'Got Chunk,' where they've replaced coconut with marshmallows, all while retaining the decadent flavors of vanilla, rich cocoa, and freshly baked biscuits. With a 7-malt grain bill creating complexity, the addition of lactose delivers a silky texture, and an extended boil caramelizes the sugars to perfection. Take a sip and let the enchantment of Fudge Fantasy carry you away!