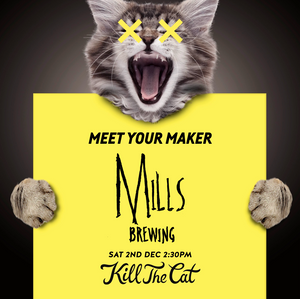 Meet Your Maker / Mills Brewing / Sat 2nd Dec, 2:30PM
Brewery:
Mills Brewing
Date:
2nd Dec
Time:
2:30pm - 4:30pm
This has been a long time in the making! We've been fortunate enough to call Gen & Jonny friends for half a decade now - two nicer, more hard working and talented people you are unlikely to meet. And their beers aren't bad either*
Masters of their own destiny, they are 100% responsible for everything that comes out of their small corner of 
Gloucester
 (well almost, Gen's Dad does the incredible label art) so naturally that doesn't leave them with a lot of time for events - so we are incredibly fortunate to be able to welcome them to London, on a weekend no less!
Join us at our Spitalfields site as both Gen & Jonny take us on a journey through 5 of their incredible creations, featuring:
1/ Running Beer (Blend 8), 5-6% (tbc)**
2/ High Cut, 6.3%
3/ Underdone, 6.6%
4/ Draw Together, 8.0%
5/ Old Dark Mild (Marsala Cask), 8.2%**


* We couldn't let that understatement pass uncommented upon - put simply they make some of the finest mixed fermentation beers in the UK and are coveted by beer lovers the world over.
** As yet unreleased