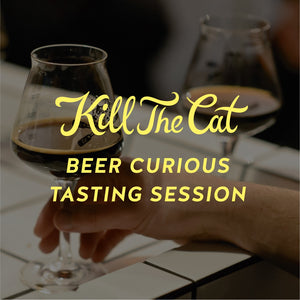 Beer Curious Tasting Voucher
Who doesn't love a beer tasting?

And we like to think our Beer Curious tasting is one of the best, slightly Cat related Beer Tastings money can buy! 

Available for different size groups, voucher holders will be treated to 5 very different but equally delicious beers from our range of fresh crafties while learning more about the history of the styles, what went into making them and some interesting tidbits along the way. We'll even through in some snacks.

When you're ready to use it just email cat@killthecat.co.uk to book your date and remember to bring the QR code to redeem it on the day.

If you have a group of 10 or more head to our Tastings tab to book

Things to note:
Voucher valid during normal opening hours only
Voucher valid from 6 months of date of purchase
Voucher can only be redeemed for Beer Curious Tastings