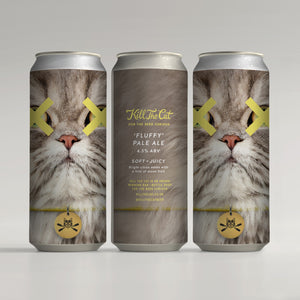 Kill The Cat, Fluffy, Pale Ale, 4.5%
Brewery:
Kill The Cat 
Style: 
Pale Ale
Strength:
4.5%
Meet Fluffy, our new House Pale Ale! R
efreshing and hazy. Gentle bitterness from Cascade and Centennial hops on the hot side meet bright, juicy citrus fruit notes from Citra on the dry hop.
All wrapped up with a soft mouthfeel and hints of stone fruit.
Allergens: Gluten (Barley, oats, wheat)
Fluffy is very much Vegan friendly